Home Automation
Versatile
SwitchSmart functionality means you can intuitively create your own personal dashboard by yourself, for the perfect combination of settings – watching movies in the living room, cuddling your partner on the sofa, preparing the kids for bedtime or entertaining friends for an evening in the garden…
You can combine everything – lights, appliances, timings, rooms, scenarios – to meet your individual needs.
Versatility is the key to bringing your home to life.
The SwitchSmart solution is a safe, secure solution with low energy usage as it only operates when you perform an action. As for radiation emitted, it is no more than a car remote locking device.
Affordable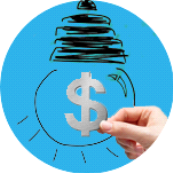 Whether you are in the middle of a larger renovation or want to simply make your home smarter, SwitchSmart can make it an affordable reality.
The innovative design means you save on the cost of installation (something other less smart companies fail to mention).
Our range of products and packages mean that you have flexibility to convert your home according to your budget. You can start with our "Starter kit" and expand through to the rest of your home at anytime.
Resourceful
SwitchSmart's solution can help you live more sustainably.
With the ability to schedule your heating appliances and lighting you can effectively cut your electricity costs with custom settings and the ability to remotely turn off/on any connected devices.
The switches are directly connected to existing electrical wiring and immediately start upon connection (and stay working even if the network is down).
Every time a light or device is switched on, it is done at the most efficient voltage to protect the electrical load and prolong the lifespan of the system and individual devices. In addition, a built-in current sensor automatically identifies any anomalies.
Safety is a priority and our system is non-harmful. Radiation is transmitted for less than twenty milliseconds, only when a unit is switched on, and at a level of roughly two percent of an average cellular phone.
When you plug into WiFi hub at home, all your devices are automatically connected, so you can control individually or in groups.
Each switch allows you to select custom preferences (including on/off, dimmer, multi-way switch etc).
Our system is uniquely flexible so you can intuitively define and modify your personal settings yourself and add or remove devices whenever you choose.
Download the SwitchSmart app on iOS or Android so you can securely access and control your new smart home by smartphone or tablet – anytime, anywhere.
What you can do
Personalize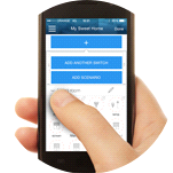 You can add as many smart devices as you like…and more at any time in the future. Define and modify whenever you like with no professional help.
Monitor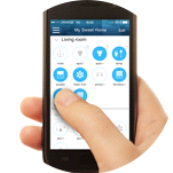 Our simple dashboard lets you understand and view your current status, usage and setup with clear visuals.
Schedule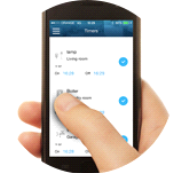 Complete control at your fingertips as you can schedule timers on switches or scenarios in any combination whenever you need or feel like changing things.
SwitchSmart 's innovative solutions give you the freedom to choose:
Scenarios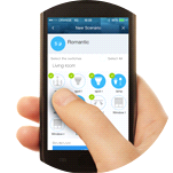 Create a custom scenario either via the app or through the switch and app together.
For example: schedule the kids' bedtime or create the right mood for a night in front of the TV – you can adapt your home whatever the activity.
Regular scenario – activates the scenario just once on a single switch or socket.
For example: heat water or turn off the TV everyday at the same time.
Group scenario – several switches or lights are activated together – both ON and OFF.
Multi-way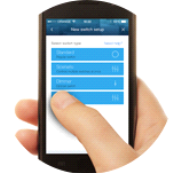 Configure different switches in different locations to operate the same light source.
Dimming
Gives you the option to preset any switch or socket with dimmable lighting (as long as the lightbulb itself supports dimming).